Document Control Software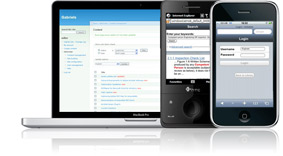 If you need to issue engineers with up to date versions of technical documents, diagrams and instructions, Gabriel's easy-to-use Document Control tool is for you. Our solution overcomes the nightmares caused by out of date copies of documents lurking on engineers' laptops and gives full auditing of all revisions, even tracking who has read which revisions.
Our solution is comprised of two parts:
A web-based tool to allow office users to add and edit documents in the Document Library (including spreadsheets and Word documents etc.), administer revisions and create new engineers.
A mobile phone and PDA web component that allows engineers to view the Library contents, browse recent changes, flag them as "read" and view photographs and diagrams associated with each document. Where they have the security rights, engineers can also make amendments.
Our system is intuitive and easy to use and manage on a daily basis. Our system allows you to issue documents (and revisions made to them) to engineers in a structured manner. You can build a set of instructions for an engineer made up of a combination of documents, spreadsheet files, diagrams, photographs and drawings.
Engineers can view the library of documents and "drill in" to view sub-sections (and sub-sub sections!). So, you can create an easy-to-navigate structure which, along with the excellent search facilities, will allow engineers to quickly find the information they need.
The system comes with full auditing facilities – it manages document revisions and tracks who has (and who has NOT) read new or recently amended sections. It also reports, by remote user, who has clicked to say that they have read each new or amended item – this will allow you to see who is using the system and who is keeping up-to-date with changes.
This will allow you to demonstrate to your customers that your engineers are kept up-to-date on all regulations and standards and that you have complete control of documents and revisions to these documents.
Furthermore, our solution overcomes the problems and auditing nightmares caused by multiple versions of documents lurking on peoples' "C:" drives and allows you to provide engineers with up-to-date technical guidance and alert them to important changes.
The system works by issuing the page the engineer currently wants to view (rather than the whole document) to their mobile device, making the system quick and responsive as well as easy to use.
Below are selected screenshots which walk you through each facet of the system.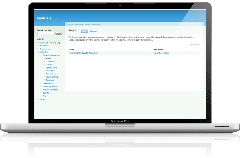 The people who manage the documents will use our simple and easy to use web-based system to create and edit the document library. The Document Manager tool shown to the left displays the document names and from here you can add, edit and move sections, and expand and collapse them.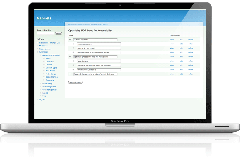 Each section heading can contain sub-headings, and sub-sub-headings. This screenshot shows a sample document broken down, section by section.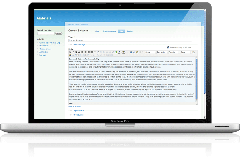 Each section can contain detailed text, tables of figures and links to images, photographs and diagrams - and the text can be formatted to make it easy to read. The screenshot to the left shows how a section's contents can be edited by office-based staff.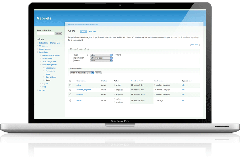 In order to track who has revised or read a particular file or revision, each user must have a unique logon name. The simple administration screenshot shows how you create and edit engineer records and lets you view when they last accessed the system.
From their PDA or iPhone the engineer launches the application and then logs on. The first page they see gives them three options – they can search the library, view the change log to see new amendments or simply choose a document from the list, the basic search screen is a very effective "free text" search on key words in the library. Alternatively, the advanced search screen lets them narrow their search: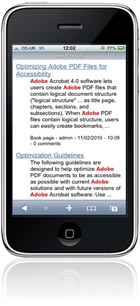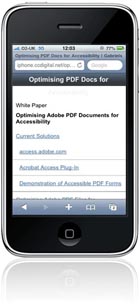 The search results are then displayed. This will show all files in the library that include their search term. The engineer can scroll down with their finger or tap the file to view the detail. The search terms are highlighted in red so that they can be spotted quickly. The engineer can also choose to browse the whole list of files, as shown to the left and tap the blue links to view sections and sub sections.

Clicking a blue heading will take them straight to that section so that they can read it, and flag it as read.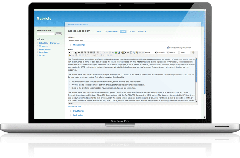 The central document manager tool lets you add revisions quickly, by clicking Edit and then carrying out your amendments. Note that at the bottom of this screen you can flag the amendment as a Revision and enter a reason to explain its purpose.
This flags that file as Updated which you can view on the central management system.
Back on the PDA, the engineer simply clicks "View Change Log" (from the main application screen shown earlier) to view any amendments that have been made that they have not yet read. The most recent revisions are shown at the top of the list of changes. By tapping on an amendment from this list, the engineer can read it – either by just viewing the document or by viewing the previous and new version, side by side. The engineer can then tap the "Mark as Read" button to log the fact that they have read the amendment: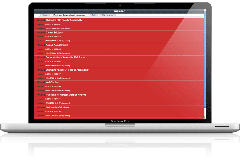 The administration screen on the central web tool lets you view, by engineer, which amendments they have (and have not) flagged as "Read".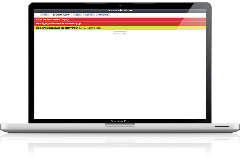 You can also view who has read an individual document or revision so that you can track who is up-to-date with new amendments.
If you would like a live demonstration of the system, please do contact the Gabriel Sales Team on 0161 443 1000.